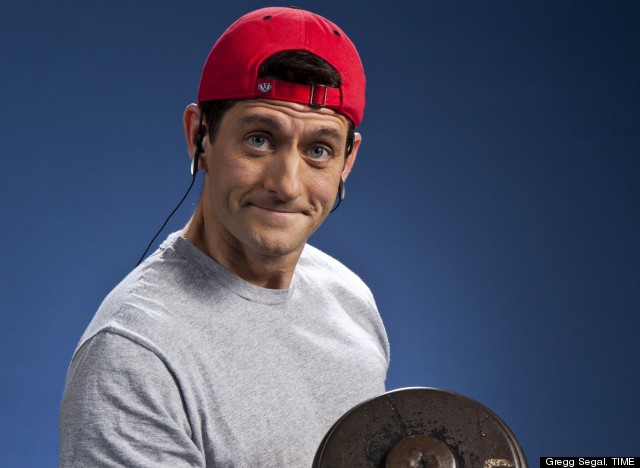 A famous line in President Barack Obama's addresses around the nation and here in Madison (video) was,
"Don't Boo, VOTE! (video)
" He was right -- expressing our outrage at the shenanigan of the current teabaggin' is not enough -- we need to talk action. In November, that action was voting so that this nation would not have
the tax-dodging ticket
of
Mitt Romney/Paul Ryan
in the White House.
Today, in Washington D.C.,
Paul Ryan was loudly booed when he left his office
for the inauguration address. Rightly so --
4 years ago Paul Ryan was part of a republican cabal that met in-secret to put in place a plan to undermine the U.S. economy
so that the results of the republican obstructionism that Paul Ryan engineered would be blamed on President Barack Obama.
Paul Ryan, actually didn't sound like he wanted to attend anyhow,
stating it was his "obligation"
. Evidently the boo-birds did not agree and would have preferred he not show up.
President Obama singled Paul Ryan out during his inaugural address, calling Paul Ryan out for his
Randian and divisive rhetoric
:
For Ryan, the country is divided between "takers" and "makers." He generally puts the number of the former at around a third, with the remainder in the producing category. The dichotomy has been a regular part of his rhetorical repertoire for years, and was elevated during the presidential campaign as Ryan sought the vice presidency.

Ryan argues that social insurance programs that are central to Western welfare states sap the citizenry of ambition. Obama took direct aim at that contention on Monday. "The commitments we make to each other -- through Medicare, and Medicaid, and Social Security -- these things do not sap our initiative; they strengthen us. They do not make us a nation of takers; they free us to take the risks that make this country great," he said.
As we have documented this year -- there are many reasons to be grateful that Paul Ryan in not our Vice-President right now. There are many reasons that Paul Ryan is perhaps one of the most disingenuous political operators that has even been on a national-party ticket. Paul Ryan is unfit for office and he deserves to hear what the public has to say -- today he heard LOUD BOOS!